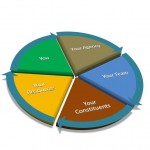 We are not primarily concerned with "what" our clients manage. Our primary concern is "HOW" our clients manage their organizations.
Our Strategic Management System™ is designed to assist our clients to put a very specific, deliberate methodology into place which will, when practiced by everyone, ensure that they are making the best and highest use of precious taxpayer dollars.
The Strategic Management System™ integrates community opinion, your mission, long-range objectives, job descriptions and the performance review system with your budget and regular reports of progress back to your constituents.
Over and above the L.E.A.D.™* Training for all members of the agency, we assist to:
Set up an annual planning cycle calendar
Conduct a strategic planning seminar for the planning team
Set up and facilitate all planning meetings
Conduct selected research about demographics and psychographics of the service area
Draft mission statement, statement of vision, long-range strategic objectives using internal and external input
Draft Planning Cycle Calendar to coincide with annual budget procedures
Review existing job descriptions and recommend changes to integrate with the Strategic Plan
Review existing job performance review system and other reports to integrate with the Strategic Plan
Provide final copies of Strategic Plan to key decision makers
Provide ongoing assistance in cascading strategic objectives throughout the organization
If you have questions or need additional assistance, please call 541.806-1502 for assistance or use the "Contact/Chat" tab at the bottom of this page.